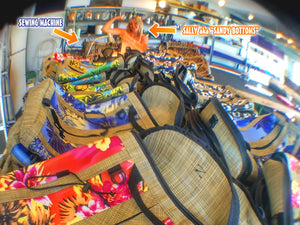 Where are DeckBagZ made anyway?
Short answer, garage business... LOL  
Yep, still too small to jump into the Shark Tank!  But we are growing fast this year.
More happy new DeckBagZ Crew members than ever, more cool new products released, and some big plans for the summer and fall seasons! 
Interesting things are happening here, and we are very excited about the future.
Here you see Sally, aka "Sandy Bottoms" doing the gun show thing,
while seated at one of our industrial machines from the 1960's, which we use every day.
We really do hand make every deck bag right here in sunny Clearwater Florida!
---