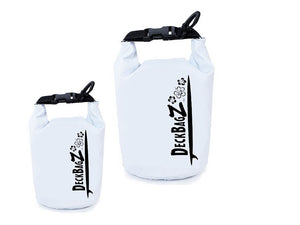 NEW Larger Size Dry Bag for inside your deck bag!
Introducing "small dry bag's" BIGGER brother...
5 Liter Dry Bag!
Our new bigger dry bag was on the "short list" of things to accomplish this year.  We've used the heck out of our own smaller 2 Liter dry bags for a couple years now, and we kept thinking that a bigger one would be great for the t shirt and more dry stuff.     Did it.  
This guy is exactly like the smaller one but can convert up to more than half your DeckBagZ into perfectly dry storage space!  Perfect.  Fits inside so great you'll be completely stoked to have it.
We chose white vinyl to help keep the heat down.  Lots of room inside the new dry bag for phone, keys, wallet, t shirt and more!  Then keep water bottles, suntan lotion, flip flops, etc. in the rest of the space of your deckbag.  
T shirts won't get wet or damp from storing them with water bottles, like paddlers' who only carry a dry bag on board do.     Big plus.  
Also you'll never have to clean mildew out of your dry bag, like can happen when they are used for carrying water bottles, then put away with some moisture still inside.     Gross.
And if you're headed out to the swell, then you might just take the dry bag only, and bungee it to your board so you can have the basics with you.     Options are good.
Always thinking down here in sunny Clearwater, Florida,  and this one was a must add item.  Get one today, and you will be making a major upgrade to the useability of your beloved DeckBagZ deckbag.
 Mahalo friends!
---