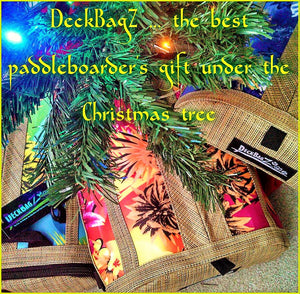 Give a Paddler the Best Gift Under the Tree!
These days everyone knows someone who paddleboards.  So this year, here is the opportunity to be a rock star, and give them the best gift under the tree!  
Although many of you in cooler parts of the country may be thinking more about snowboarding than paddleboarding right now, the fact remains that you probably have a paddler on your holiday gift giving list this year.  Nothing makes a friend or family happier than receiving a gift that actually required some thought to give.  So although they may not expect it, a deck bag for their paddleboard or kayak will be an unexpected surprise gift that they will love and remember, and that they will look forward with great anticipation to using in the springtime.  Happy thoughts.  Warm memories.  Unexpected surprise.  Merry Christmas!
Cheers,
DeckBagZ Sales Team
---