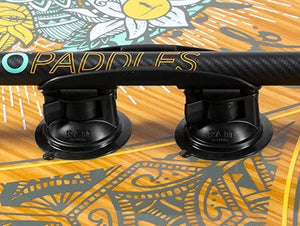 Best Paddle Holder Ever
Aloha fellow paddlers!  We are really stoked to introduce the best paddle holder ever for SUP'ers and Kayakers!
We have been going through some pretty interesting sourcing issues this year, as one might imagine.
But here is a great treasure we discovered as we continue to adapt here at DeckBagZ!
We proudly introduce
Paddle Buddy Paddle Holders
, which we think are the finest machine to hold a paddle to a watercraft that we have ever seen! 
Through our association with Yolo Board Company and our new friends at Paddle Buddy,
we are now a distributing dealer for these awesomely simple but absolutely effective "Must Have" accessories for paddlers.
There are two models, single and double suction cups.
So, if one is good, two is better right?  Up to you, they both work great.
Stop dropping your paddle off your board, or lighten the load when lugging to the beach.  You are going to love these as much as we do!
---